Plan and Pricing
Get Started Fast
Name your website, select a design template and start building with the right hosting plan.

Hosting Features
Pre-Installed WordPress+ Free Web Builder
Have WordPress pre-installed for you during the checkout process, or BoldGrid, the simple, drag-and-drop website builder for WordPress. Our team of WordPress experts is standing by to assist you with any issues at anytime, all at no cost.

Free Domain + Website Migration
All Web Hosting Hub hosting plans include a free domain credit. Get the ideal domain for your site or transfer a domain to us from another provider. Plus, free, zero-downtime website transfers for cPanel accounts up to 5GB or up to 3 websites/database. We will take care of you along every step.
1-Click Installs + Easy Control
Softaculous gives you access to more than 400+ FREE tools to install with a single click for open-source platforms like WordPress, Joomla!, Drupal and PrestaShop. Operate your site with cPanel, the most reliable, easy-to-use control panel in the industry.
How to place new order
Select our services at Order page.
Depending on selected product, you might need to provide additional information to complete order request.
Click "Continue" and your product/service is now in shopping cart.
If you have promo code, you can apply it and get discount.
Click on "Checkout" button to proceed with checkout process
If you are already logged in, uou will be automaticaly redirected to new invoice
If you are registerd client, you can provide your login details
If you have never purchased any service from us, fill up client sign up form, and continue checkout
Choose payment method to pay for invoice. List of all avalable payment methods will be listed below invoice details.
Choose payment method
You will be redirected to payment gateway page
After successfull payment, You will be redirected back to invoice page.
Depending on selected services your order will be reviewed and activated by our staff members.
After you receive confirmation email about order activation you are able to manage your services.
CPANEL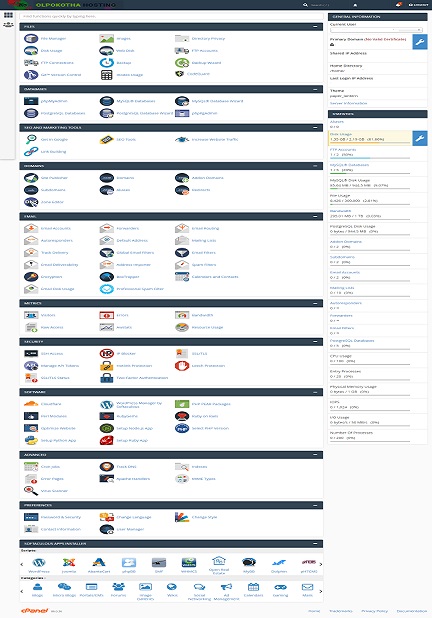 In order to get a website active and live on the internet, you need to host a website. If you are seeking to build a website without taking web hosting services, registering domain names will serve no purpose. Having a web hosting account is very important in order to get a website hosted. A web hosting company makes it possible for your website to be accessed by everyone on the web.
You can transfer your website to us or you can update your nameserver.